Sitka, Alaska is Great Fun!

There's so much to do in Sitka, you'll want to stay longer, and visit often!
Sitka is a unique Alaska island fishing town where ancient culture, art and serenity is a way of life. Downtown Sitka offers unique experiences influenced by Tinglit, Russian and American cultures. Whether you enjoy hiking, dance, museums or historic sites, it's all here! Sitka's totem-lined trails are world-famous and the shopping is extraordinary! You'll find authentic fur and craft items, art galleries, gifts, and hand-crafted souvenirs, including:
Silver Work
Carvings
Masks and Woven Baskets
Russian Lacquer Boxes
Nesting Dolls and Icons
Contemporary Alaska Artwork
Salmon and Wild Berry Products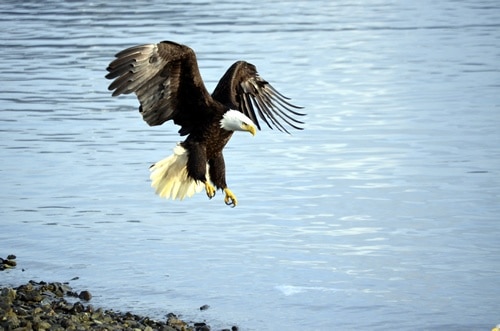 Sitka is bounded by sea and mountains, and offers some of the most amazing country in Alaska.
Located within Alaska rainforest, wildlife includes Bald Eagles and Brown Bear. Against the amazing backdrop of Mount Edgecumbe Volcano, Sitka Sound is a wonderful place for spotting humpback whales, nesting seabirds and Sea Otters and Sea Lions.
Exceptional Sitka fishing includes 5 species of Salmon, giant Halibut, Ling Cod and bottom fish. Big Blue takes you where the BIG fish are!
Getting to Sitka
There are two ways to get to Sitka, by air or sea.
Alaska Airlines has daily jet service from the lower 48 to Sitka….or, if you can take the time, you will really enjoy a trip to Sitka on the Alaska state ferry system, the Alaska Marine Highway. You can board the ferry at Bellingham, Washington, Prince Rupert, BC, or Haines, Alaska (at the north end of the Panhandle). For more details, see the highways map, below.
Planning your Sitka vacation
Weather Information from Weather Underground:
Plan your trip (weather)
Local Radar
What makes Sitka such a great Alaska fishing vacation destination?
Temperatures range from 45 to 65 degrees Fahrenheit during our season.
Here is what to bring on your Alaska fishing trip:
Dress is completely casual and warm.
Bring layered clothing.
All of our boats carry rain gear on board, and rubber footwear is provided.
Big Blue Charters fishing trips are held on specially-designed BAMF Boats. Heated cabins, rain gear, rubber footwear and the latest tackle provided. Handicap accessible.