Alaska King Salmon Fishing in Sitka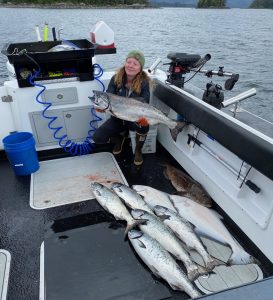 Salmon fishing for kings is "top dog" around here in middle of May and June and continue until the end of July with maybe another run in August. According to the Alaska Dept of Fish and Game, Sitka is the home of Alaska's largest recreational marine king salmon fishery. If you like to catch big King Salmon, join us! No one can promise a king salmon, of course, but the odds are good at the right time of year. We know where they are and how to target the kings from years of experience.
Silver (coho) salmon are great sport and numerous in our part of Alaska from July through September. The Alaska Department of Fish and Game says that "Sitka is … home to one of Alaska's largest recreational marine coho salmon fisheries." If you join us at Sitka later in the summer this year or next, you'll be a believer, too: our fishermen catch a lot of them.
King salmon are LARGE fish.
These behemoths commonly exceed 30 pounds, and the largest ever caught in Alaska tipped the scales at 126 pounds! The largest sport-caught king was just under 100 pounds.
Enjoy some of our photos of Salmon fishing in Alaska!
Visit our Alaska fishing scrapbook for more!
Give us a call to discuss your next Great Fishing Adventure!
(907)747-5161