Big Blue Charters
2021 Alaska Fishing Packages and Rates
Cruise Ship Charters    $375 per person
(plus 6% sales tax)

Minimum 4 persons
6 hour trip
Payment in advance
Non-Package Daily Rates   $450 per person

(plus 6% sales tax)
Full Day (8 – 10 Hours)
Not included in Daily Rates:
Fishing licenses – King Salmon stamps – Fish processing
Sport Fishing Package Rates
Pricing Based on Double-Occupancy
Includes Fishing on BAMF Boats, Professional Guides and Equipment, Lodging and Dining in Sitka, Transportation to and from airport and dock. See below for more details.
4 Days/3 Nights
2 Days Fishing
$2250 plus 6% sales tax
(all inclusive)
5 Days / 4 Nights
3 days Fishing
$2950 plus 6%  sales tax
(all inclusive)
6 Days / 5 Nights
4 days fishing
$3650 plus 6% sales tax
(all inclusive)
7 Days / 6 Nights
5 days fishing
$4350 plus 6% sales tax
(all inclusive)
Customized sport fishing packages     Call
Package price does not include 6% city sales tax, or gratuity.
Cancellation policy
Deposits are refundable (less 10% cancellation fee) prior to April 1st. No refunds will be given after April 1st for any cancellation unless the space can be refilled.
ALL-INCLUSIVE Fishing Trip Package Details
Our Alaska Fishing Package Include the Following:
Transport to and from the airport.
Transport to and from the boats daily.
Lodging
You will be staying at one of several fine establishments in Sitka. We often use the Totem Square Hotel and Marina, just a short drive or walk from the docks. We also use Westmark Sitka. Coffee and pastries will be served on the boat for a morning wake-up.
Meals
All your meals are included in your package and you will get a wide variety of restaurants to choose from including the 5* Channel Club which has excellent Steaks and Seafood with a courtesy van to take you to and from.
Lunches will be provided on the boat.
Trip Length
Approximately 10 hours guided fishing from 6 AM to 4 PM.
Fish will be cleaned and filleted on boat.
Fish Processing
Processing for the first (2) 50 lb airport ready boxes of your fish are included. Approximate cost for each additional box is $2.90 per lb on outgoing weight.
All fishing licenses and king salmon stamps are included.
All pricing based on double occupancy
Gratuities are extra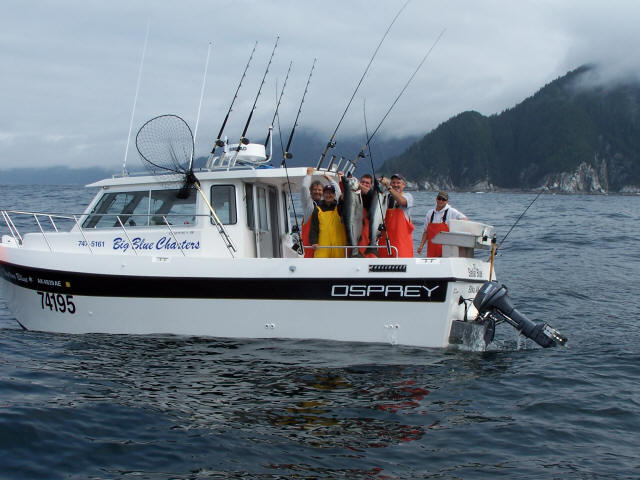 My brother and I wanted to thank you guys for a once in a lifetime fishing experience! Our trip could not have been scripted any better. We had great weather and the best captain. Capt. Mike put us on 2 kings, 3 cohos, 4 pinks, and a 125 lb halibut, all in a 6 hr trip. From the top down , website, boat, fish processing, and people, Big Blue Charters is grade A. We are already recommending Big Blue Charters to others, and will continue to do so. Hopefully, we will return to Sitka and fish with Capt. Mike again, (He is ornery as hell, but we like that!!)
Thanks again for an AWESOME trip!!

  –Chuck and Duke Purdy