Are You Ready to Go Fishing?
Fish the Legendary Waters of Sitka with Big Blue!
Alaska's Premier Fishing Charter!
Welcome to Sitka, Alaska: the premier Alaska fishing destination! Sitka is home of legendary big Alaska Salmon fishing and monster Alaska Halibut fishing; and Big Blue Charters does it  best! Check out our Alaska fishing photo scrapbook to see what Sitka has to offer fishing enthusiasts of all ages and get ready to reel in the BIG one!
or give us a call anytime to discuss your next trip!
We live and work in Sitka, and invite you to visit us to make your Alaska fishing dreams come true. Aboard our specially-designed BAMF fishing boats, our experienced Alaska fishing guides will take you to the fishing hot spots that made Sitka, Alaska famous.
Our intimate, top-quality charters ensure every guest enjoys the fishing adventure of a lifetime. Fishing is in our blood. We'll share tips and secrets of Alaska salmon and halibut fishing, and make sure your visit is a pleasure in every way.
Sitka is  second to none when it comes to fishing! Big Blue Charters offers exceptional package pricing, and is well-suited for anglers of all experience levels. We love Sitka, we love to fish, and we love to bring people out on the water for the incredible fishing trip.

"My son Kyle put together this video shortly after we returned from the trip. We did have a great time as you can tell!"        K.Q.
---
Family-Style Fishing!
Big Blue Charters is a great choice. Join us for a next-generation Alaska Fishing Trip! We'll take you to where the fish are and give you Tips from the Pros to make your Big Blue Charters Alaska Fishing Trip a memorable one.
Join us for a Single Day Trip starting at $450 per person, or an overnight adventure. We offer special discounts for Cruise Ship stopovers!
Our multi-day Alaska Fishing packages include 4, 5, 6 or 7 Day trips with outstanding accommodations. We'll help you plan your exciting Sitka visit, ask us about lodging, dining and sightseeing opportunities!
Here is the fishing we specialize in:
Alaska king salmon – a.k.a chinook salmon
Alaska coho salmon, or silver salmon
Pacific halibut  
Alaska rockfish – several kinds
Ling Cod
Give us a call to discuss your family's next great vacation!   (907)747-5161
---
Make it a package! There's lots to do in Sitka!
Read Fishing Frenzy, by Dave Gibson
---
Sitka, Alaska
Sitka is among the best for Alaska fishing for King Salmon, says the ADF&G. Halibut are also big and abundant here.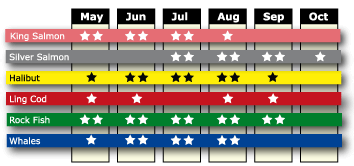 The  chart shows the best time to fish in Sitka for different species of fish. For more details on exact dates for seasons just send us an email. And if you are interested in Sitka freshwater fishing, we can guide you to some great spots as well.
One star indicates good availability and two stars means excellent availability.
Sitka is the kind of fishing you've been dreaming about, an angler's dream. Check out our photo album and get in touch with us to book your next amazing vacation!
Listen to "Why Sitka" – an interview with Mike Keating.
---
We Find the BIG FISH and
Make Our Guests Comfortable on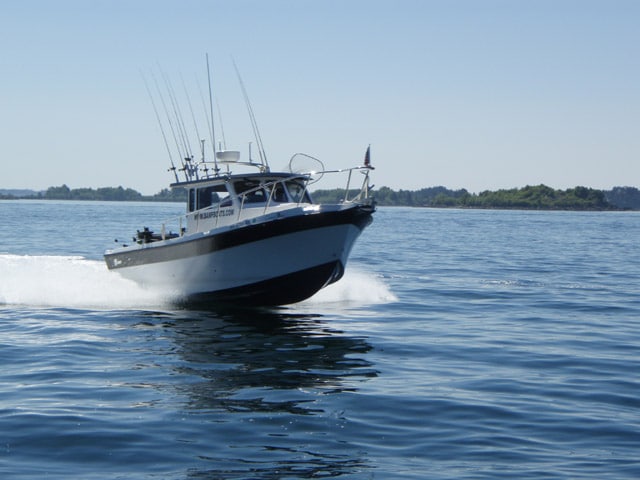 ---
Staying in Sitka?
We Recommend: