Alaska Halibut Fishing in Sitka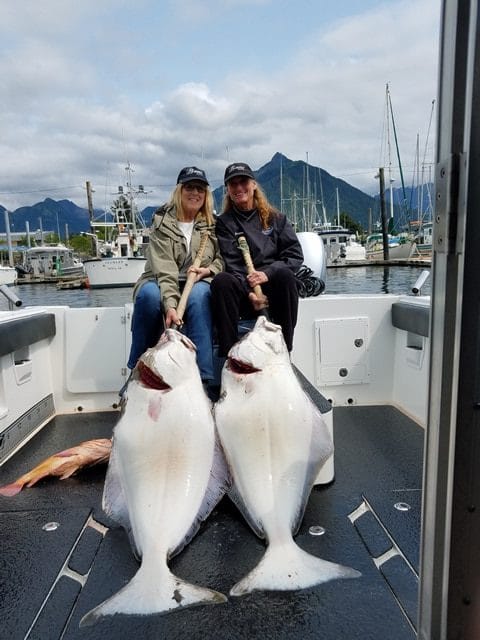 The Sitka Alaska area enjoys a plentiful supply of halibut all year round. We are fishing for 50 to 150 lb halibut, but have caught fish in the high 300 lb range. The Alaska Department of Fish and Game reports the Sitka area supports one of the state's largest recreational halibut fisheries. This is no surprise to us — we consistently come into the Sitka docks with substantial halibut fishing catches.
Great Halibut Fishing? Sitka's got it!
Sitka is a popular halibut fishing port because it is one of the World's Finest locations for Alaska Halibut sport fishing trips. The Halibut are huge, the scenery is great, and there is plenty to do with an interesting history and plenty of great shopping and sightseeing opportunities. But if you're a fisherman, those are just a bonus — you're looking for good fishing! Sitka has it.
Why Choose Sitka for Your Halibut fishing trip?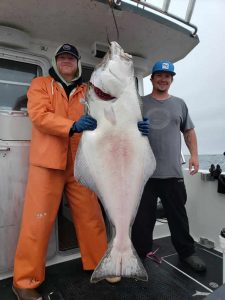 Halibut make great eating, either fresh or frozen.
These big fish come in all sizes — the biggest halibut caught in Alaska waters was almost 500 pounds. Halibut are strange-looking fish when they come up from the bottom. One side of the fish is almost white and the other tends to take on the coloration of the ocean bottom where they live. This gives them a protective coloration from both predators and prey.
Sitka/Pacific Halibut
From early June through September, Sitka fishing for Halibut is among the best in the world! Halibut size is legendary, and the fish are plentiful. Halibut are deep swimmers during the winter, so look forward to a strong fish and a good fight once they bite. We are fishing for Halibut in the 50-150lb. range, with some reeled-in as large as 400 lbs.! As with all Sitka species, Big Blue Charters' guides will get you to the best spots for Halibut fishing and help you along with tips and an extra hand when you snag a "big one."
Halibut is extraordinarily flexible in the kitchen, with a mild white meat that lends itself to all styles of preparation. Pan searing with Lemon Butter Sauce is a 10-minute meal that's sure to please. Halibut bakes well, in just about 12 minutes. Brush with olive oil, butter or until opaque; or try a sauce prepared with Mayonnaise, Lemon Juice, Garlic, Mustard, Parmesan, Green Onions, and Tabasco if you'd like. Or grill it in an oiled grilling basket, on a preheated grill. Any way you cook it, you can't beat fresh Halibut for a versatile, fast meal!
Catching or Eating – Sitka Halibut Can't Be Beat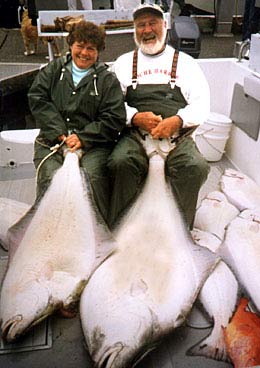 Given their size and weight, bringing in a big one can be invigorating — it's great fun and excitement for fishing enthusiasts of all levels. Catching the big ones is fun, but even the medium-sized fish are a blast to reel in, and provide excellent eating.
While you're here, be sure to ask Karen for some of her great Halibut recipes, and take home a few ideas from Sitka's exceptional restaurants. All-Inclusive Big Blue Charters fishing trips include your choice of dining adventures from Sitka's finest!
Give us a call for more information or to Book your trip!
(907)747-5161